New Revenue Attribution Tools You Should Know About
With your advertising spend you want as higher ROI as possible.
Yet, how do you know which channel and content are giving you that kind of return?
There is a mountain of data that you can scroll through if you have the time. However, revenue attribution tools can grab the relevant information for you so that you can make quicker decisions. That means you are saving time and money.


What is revenue attribution?
Revenue attribution (also referred to as marketing attribution) is multifaceted. It lets you know which channels have the highest revenue return from your ad spend. With that information, you can then divert your advertising budget into those areas that offer the best results.

Also, you gain an understanding of what components of your advertising led to conversions and which didn't. That allows you to double down on the ads that are working.

Another benefit of revenue attribution is the ability to track your customers' journey through your sales funnel.

So revenue attribution is the ability to see which touchpoint(s) are leading to conversions. Revenue attribution tools provide you with that kind of data. Yet, these tools aren't all created equal.
Types of revenue attribution tools
How much data do you want to track to understand your customer's journey through your sales funnel?

Some tools give you very precise data that highlights specific touchpoints. Other options give you a more general view.

Single-Touch Attribution
As the name implies, these kinds of tools only focus on one touchpoint of the buyer's sales journey. The final conversion is then attributed to that interaction.

First-Touch
The conversion is credited to the first marketing asset the buyer clicked in. Any further interactions along the way to final conversion are ignored. Here you can see what initially caught your customer's attention.

Last-Touch
This is the opposite of first-touch. That is, the last ad or conversion channel is given kudos for converting the customer. Any other channel before that is ignored.

The data focuses on the bottom of the sales funnel. It highlights which asset at the end of the journey led to the conversion.

Multi-Touch Attribution
While single-touch tools look at an individual aspect of what motivated the conversion, multi-touch tools examine the entire sales journey.

Which digital marketing assets contributed to the final decision of the buyer to purchase from you?

First-and-Last
This model gives equal credit for the conversion to both the first and last touchpoints. Some tools focus solely on these as they are deemed to be the main assets that led to the conversion.

Linear
Here all the touchpoints along the conversion journey are given equal weighting. That is, each step is considered just as important as the preceding step.

Time-decay
The most credit is given to the last touchpoint that preceded the final conversions. Other touchpoints before this final one is progressively weighted less the further back they go.

U-shaped
In this model, the first and last touchpoints are both assigned with 40% of the final conversion score. The remaining 20% is spread evenly across the other assets involved in the conversion.

W-shaped
Here the credit is divided equally between the first and last touchpoints as well as the one that created the initial sales lead.

Why use an attribution tool

As you have seen, there are different models of tools you can select from. But why should you consider using an attribution tool?

When it comes to investing your advertising budget, you want to ensure that you aren't wasting money. Attribution tools let you identify which channels and marketing assets have the most engagement from your audience.

You can pinpoint what works and what doesn't, so you can focus your spending on those touchpoints that are providing you a return.

That makes your overall marketing more efficient while maximizing your ROI.

Without attribution tools, you are left wondering which ad or campaign led to the final conversion. Using such tools eliminates the guesswork.

Attribution Tracking

How do the tools know exactly which step along the sales journey contributed to the conversion? Through tracking the user interactions along the way.

Cookies, tags, UTM codes, and pixel data leave a trail. Attribution tools pick up on the "crumbs" and tell you which ones took the customer to the sales pages.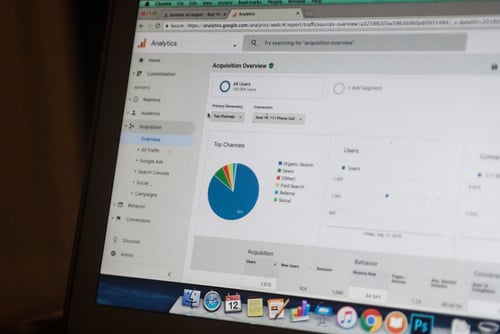 How to decide which tool to use

When settling in the appropriate revenue attribution tool, you don't want to rush into the decision. There is a lot to consider.

Which devices do you want to include
Nowadays we have smartphones, smart TVs, tablets, and computers from which individuals can surf the net and purchase from you. Do you want to examine data from only one device? Or would you like to track how customers used multiple devices through their conversion journey?

How would you like to integrate the attribution tool
You ideally want to follow the buyer's interactions across all your marketing channels. So you will want a tool that works seamlessly with your CRM software, social media, email clients, and web content.

Data privacy
A breach of your customer's data can have serious consequences. Trust is eroded and you may find yourself being landed with a major lawsuit. To avoid that kind of headache, use only revenue attribution tools that have robust security measures.

User friendly
You're busy enough, so the last thing you want is software that will take a lot of training to use. Have a look at the reviews of the attribution tool you are considering. Is it easy to implement? If it isn't straightforward, that's okay. Maybe you can get one of your team to get everything up and running.

At the end of the day, it's up to you to decide which tool you want to go with.

Single-Touch or Multi-Touch
How in-depth do you want to analyze the conversion data? As you have seen, Single-Touch tools give you a brief idea of what may have led to the sale. Multi-Touch options allow you to drill down into the finer details of the buyer's trip down the sales funnel.

Budget
Attribution tools range in price. There are free options through to software packages that can cost thousands of dollars. You need to ask yourself how much you are willing to invest in these programs.


This tool provides an abundance of data to aid in your marketing analysis.

Once it detects a conversion, Ruler will trace back the sales journey through all the touchpoints. This information is then imported into your CRM.

If a lead results in a sale, that revenue data is automatically transferred into Ruler's dashboard.

You can seamlessly integrate the tool into your Google Ads and Google Analytics accounts.

It also allows you to identify which channels are the most effective at conversions. That allows you to focus more on the areas that give you the highest ROI.

For those businesses that generate offline traffic (such as customers physically visiting a store, using an instore payment system) Ruler can include this data in its analytics. That allows you to look at both offline and online factors that contributed to the conversion.


Smartphones and tablets are nearly ubiquitous in today's world. People watch, read, listen, interact and even shop while on the go.

If you have focused your marketing efforts primarily on the mobile market, Adjust is the tool for you.

You can track ad and conversion data in real-time. Adjust also offers automatic retargeting.

The software lets you analyze app engagement data to see if you have achieved your marketing aim or not.

It integrates with both Android and iOS devices. You do have to install it separately on both types of devices. Installation does involve adjusting the SDKs for both Android and iOS.

Adjust is a great tool if your target audience is heavy users of module devices. However, as a multi-device option, it does fall short. That is, what if your final conversion first looked at an ad on their smartphone and then bought from you via their computer?
This tool offers multi-touch data so that you can have a closer look at your buyer's journey along the sales funnel.

It integrates with a range of social networks such as Facebook, LinkedIn so you can extract ad data from these platforms.

When installing the software you need to decide what data you want to receive from your audience. You can set up Attribution to provide you with information on events and audience traits.

The centralized dashboard offers an overview of campaigns, revenue, and your ROI. Additionally, you can see your daily, weekly, and monthly returns in ad spend. That allows you to quickly implement changes to your campaigns.


If your ads are mostly run through Google, then this tool is ideal for you.

As a multi-touch model, Google Attribution assigns each touchpoint an equal weighting. It lets you examine user data across all your channels.

As part of Google Analytics, you get a broader view of the performance of your ads.

It's a tool that is provided for free by Google

Localytics

Another analytics tool that focuses more on mobile apps.

Localytics lets you personalize ad campaigns based on user engagement across apps.

The interaction can be in the form of app pushes, in-app messaging, or delivered to an inbox. That allows you to target specific audiences based on the historical usage data provided by the attribution tool.

You can also localize your ads so that they pop up when customers are nearing your location.
This offers quite a comprehensive analysis of where your customers are coming from. You can see if the traffic is driven from your social media platforms, SEO results pages, or referring sites.

Statcounter also can provide you with data from your keywords so that you can create more effective content.

At a glance, you can see which trends aren't performing so well and take immediate action. Additionally, this attribution tool can pick up on click fraud. That prevents your advertising spend from being unscrupulously chewed up.
With Adinton you can keep track of both online and offline consumer behavior. That makes it a versatile option.

You can also build similar audiences based on the information the tool receives. Think of an attribution tools version of Facebook's Lookalike feature. That ensures your advertising spend is being used to attract similar audiences as your existing crowd.

Adinton also allows you to those channels that have the most engagement. Your marketing budget can then be better utilized by chasing promising leads.
Funnel
Funnel can integrate with over 500 apps and platforms. The data is then converted into report-ready information so you can strategize your marketing with ease.

The tool collects the information from tools such as Google Ads, Google Analytics, Bing Ads.

You also can track usage from social networking sites such as Facebook, Twitter, and Instagram.

Dreamdata
This is a multi-channel B2B tool that drills down into your marketing campaigns. You can track your audience's journey along each touchpoint. That lets you see what's working along the way and which aspect of your marketing needs tweaking.

Dreamdata allows you to scale up your best-performing channels. Then you can compare the revenue gain against your ad spend. Additionally, the tool provides you with ROAS as well as the LTV of your ads.

Your content isn't ignored either. This tool allows you to identify which pages have the most engagement and conversion success.

If you are using multiple social networks as part of your marketing reach, Dreamdata lets you spot which platforms are the stars.

Looker
Get a comprehensive overview of your marketing data. Looker's dashboard provides all the relevant information at a glance. However, you can dive deeper into the data to get a closer analysis of your touchpoints.

By having a detailed breakdown of your audience's conversion habits, you can use Looker to deliver a more personalized experience across your channels.

You can use filters to segment the information into groups. For example, data that will help your sales team close better-qualified leads and another set of data solely intended for your marketing department.

All the information is updated in real-time. That allows you to respond swiftly to your customer's interactions.

Oktopost
If your marketing campaigns are mostly run on social networks, then Oktopost is worth considering.

It allows you to manage your social media assets so that you get a scalable return on your advertising spending. You can see how well your marketing is generating demand. Beyond marketing, Oktopost offers an analysis of the success of your posts.

Additionally, you get a comprehensive breakdown of your social media content's likes, comments, and shares. That allows you to sift out the great content from the bad.

You gain a greater insight into your audience by seeing who is recommending you to their friends. Now you have the tool to drive your social media growth.

Onclusive
Using proprietary software, this attribution tool aggregates data around social media mentions. You can gain insight into who is talking about your brand and content keywords that are driving conversions and more.

Onclusive lets you search the extensive database and set filters. This enables you to pinpoint the information that will help you streamline initiatives. With its machine learning and artificial intelligence, you can see your brand's authority on social media. That allows you to make the appropriate strategies to enhance your social marketing campaigns.

One unique feature of this tool is its ability to measure your PR campaigns. Visits to your website from an article hosted elsewhere, soundbites, interviews, and other journalistic endeavors contribute to this metric.

An ideal tool for brands that want to promote their image across various social media platforms.

Invoca
For companies that focus on closing the final sale through the phone, Invoca is worth a look. It's a multichannel tool that tracks each touchpoint leading up to the conversion. Attribution is credited to search, social media, website content, email, and offline contributors.

Data analysis includes information from your keywords, landing pages, campaigns. Seamless integration into your marketing channels allows you to look at ways you can reduce your CPA. Like other attribution tools, you can separate the information so that it is specific to each team within your business.

Information from your phone calls can be added to your marketing campaigns in real-time. That allows you to streamline your ads and keywords to maximize the conversion probability.

Match to your marketing needs
Deciding which tool to go with is determined by how detailed you want the feedback from your marketing efforts. How much you can spend on the software package is also a factor.

Where you spend most of your marketing budget can help select the most appropriate option. For example, are your efforts focused mainly on social media platforms or across multiple channels?

Don't feel the need to rush into a decision. Most of the attribution tools offer a free trial period. Try the different options you have short-listed.

One final consideration revolves around future-proofing. If you have plans to expand your marketing efforts sometime in the future, contemplate going with a tool that can meet your current and prospective needs.
Contact us now: info@SRpro.marketing.