2022 Rising Costs and New Challenges for Small Businesses
Business owners who have owned and taken care of their small and medium-sized businesses with painstaking care and backbreaking efforts are facing crises that have already surpassed the 2008 recession. What options are available to small business owners to help them through these challenges?
Rising costs have created challenges for small businesses by affecting staffing, the number of products bought, and services available, causing increasingly empty shops, creating the need for more loans, and forcing businesses to become creative with suppliers and available resources.

The first step to finding a solution is to understand the problem. Read below to see each challenge facing small and medium-sized businesses in 2022 in more detail, and the options available that could minimize financial damage or provide fresh ideas to create new revenue streams.


Extreme Rising Inflation
It's easy to see how rising costs in consumable goods, suppliers, and vendor services will affect your success as a small business owner. You can't avoid feeling the financial damage. Many small businesses find it difficult to battle inflation because their present business and revenue can't match the toll of inflation. By December of 2021, inflation had risen to a yearly total of 7%. An unprecedented amount. Inflation continues to rise in 2022 as January increased the inflation by 0.56%. Small business owners must expect continued inflation percentage increases to prepare themselves and their livelihoods for the worst-case scenarios.

When the costs of goods and employee wages go up, the additional money to afford those goods must come from somewhere. If it doesn't come from funding, it comes from another aspect of your business.

You can't influence the direction of inflation to a drastic degree as a business owner, but there are ways to give your business the best possible chance of survival while it happens, like the suggestions below. I cannot go into too much detail here, but resources like CFO Share have additional effective business strategies during inflationary times for you.
Re-evaluate Revenue Streams
Assess your current revenue streams. Ask yourself questions such as,

What is still making you money?
What has been costing you rather than helping you?
What can you still use to compete in your market to distinguish your business?
What products, marketing messages, and /or services make you distinct and valuable compared to your competition? Lean on them.
Are there new revenue streams you can consider to replace the ones you've cut? For example, the beginning of the covid pandemic prompted grocery stores to add delivery services as a new source of revenue to stay in business. What can you do?

Reduce costs where possible
A logical move to make up for more money spent on goods and wages is to reduce costs in other aspects of your business. This is often done in combination with rising prices to increase profit margins. You can reduce business costs in ways as,

Downsizing your office space to a space that is cheaper to rent.
Cutting goods that don't sell or that you can't compete in price with.
Substituting products that don't sell with those in higher demand, especially if they are cheaper to acquire.

Reprioritize customer loyalty initiatives and experience
If you can compete with lower prices in products and/or services, you can hope for new customers, but you need ways of making new and existing customers stay loyal.

It may seem too expensive at first, but prioritizing the customer experience through properly trained staff, having enough workers on hand to help customers with questions and concerns, and making the buying process quick and simple is noticed by customers. It will increase your credibility in their eyes.

You can also offer complementary services, subscriptions, and warranties on your products to maintain your credibility and professionalism while incentivizing customers to stay with you.

Intense Labor Shortage
In addition to inflation caused by supply chain issues and taxes, both of which are largely outside of the control of small business owners, there are increased costs connected to the intense labor shortages occurring since 2020. According to Business Insider, 38 million individuals left their work for various reasons. In order to keep their best employees, small and medium enterprises (SMEs) are having to increase pay to incentivize employees to stay, but not only has this method not been working as well as owners expected, but this can also bring the SMEs deeper into the inflation issue as mentioned above.

So how can SMEs convince workers to stay loyal in this trying period?
Increase Pay Where You Can
This should only be done if you can afford it in your budget. It can be expensive for SMEs, but as a business strategy, it's important to have enough workers to ensure excellent customer service. You should figure out the minimum amount of employees you need to maintain that service.

If you can't afford to hire more workers because of the fact that you would have to increase your product/service prices to account for it, is there a way to work with the crew you have now?

If you're forced to lay off workers, do you have the money to pay for the extra hours the employees you still have will be working? Many workers require more hours in order to make more money. Are they willing to take those additional available hours?
Add Benefits
One of the reasons so many workers left their job was because of the lack of good benefits. You can use this to your advantage by implementing temporary or permanent monetary compensations and specific benefits, according to what your budget allows. There are also non-monetary benefits that keep employees loyal due to the sense of appreciation and tight community. It's harder to leave work that you enjoy.
Lower Experience Requirements
Another reason many owners cannot fill their labor gaps is from a lack of properly skilled talent. It's possible to fill the void by lowering experience requirements but this can be harmful as many business owners have experienced poor quality of their labor as a bigger problem to them than inflation.
You can counter poor quality labor with effective on-the-job training. This is worth the effort, as ⅓ of the small businesses registered to the Federation of Small Businesses (FSB) index said they were experiencing a barrier to their growth due to the lack of properly skilled staff.
Work From Home Opportunities
The Coronavirus has split the workforce into two, with some refusing to come back to their jobs because they don't want to be forced to take an injection they believe will negatively impact their health, and others not returning because they believe they will contract the virus. SMEs, caught in the middle, would close the labor gap considerably if there are opportunities for employees to work from home.
Increased Online Shopping
Small businesses are at a distinct disadvantage when competing with online businesses primarily for their convenience for customers. In 2020, the U.S. Department of Commerce noted a 32.4% increase in e-commerce from 2019, due to Covid-19. In 2021, the trend continued to a 39% increase. As more consumers are choosing to shop online, small businesses need solutions to increase their own sales.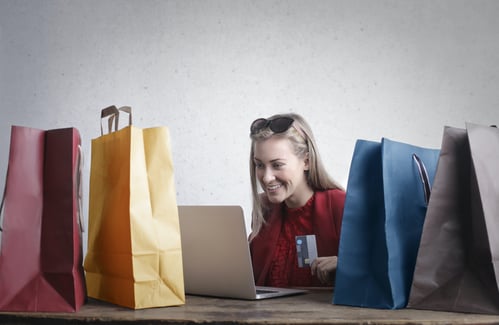 Create a Better In-store Shopping Experience
The first thing that can be done to keep customers returning to your physical shop is to maximize the in-store experience for them. In-person shopping is still desired by consumers in order to avoid high shipping costs and the risks of porch piracy, but can the ease and enjoyment of shopping or the interaction with clients in your business be improved through,
Effective staff training that makes employees as helpful as possible for customers.
Adding in-store free services
Make your physical store as easy to navigate as possible to waste less of your customers' time.
Creating a welcoming and community-oriented environment
Creating an inventive experience for customers such as a different way to interact with your products.
Become an Online Business
E-commerce won't decrease, as the pre-covid percentages show, so the ultimate solution for SMEs is to take their business online as much as possible. This is an expensive solution for SMEs because of the cost of E-commerce software and online marketing services. However, to ensure an easy and enjoyable shopping experience for online consumers that will maintain relevancy for your business, SME owners should invest in professional assistance.

Oftentimes, state small business development agencies have free resources to train owners on effective marketing tactics online.

When you're business transitions in part to online, make sure your physical and online stores work together by having accurate in-store item quantities on your website, and the option to buy online and pick up in-store. Educate yourself on the risks of cybercrime for small businesses as you transition to online business.

Wasted Space

As many SMEs decrease their amount of product and cut out fruitless revenue streams, there is more time and space available. These are two valuable commodities for every business and corporation and should be utilized to their greatest extent. Obvious empty space in stores can disturb customers, while the time you're saving from unproductive services can be directed toward something else. As you can imagine, wasting these two valuable resources can risk your entire business, but what can be done with them?

Become Multi-functional
Is it possible for you to use your extra space to incorporate products or services that have proven to not only be unaffected by the pandemic but increased their business? According to the New York Times, the small businesses that have products and services that help those who stay indoors, shop online, or are looking for new outdoor hobbies are doing especially well.

Supplying the resources and services necessary for other entrepreneurs to turn hobbies into businesses, especially online, is also an option. For this, conduct research on the markets and niches that have been growing, especially around your area. Is it home-baked goods? Pet products? Gardening? Compare the growing niches with the resources that are more or less readily available and easy for you to stock up on.

Rent Out Space
Do you own space that you can't use? Extra rooms? There will be other businesses looking for as low an overhead cost as possible in order to save money where they can. There are also entrepreneurs who have been forced to downsize their workspace but can't take on a long-term contract for space. With your own empty space, you might create something that originated in the UK called a "Meanwhile space," where small shops are able to set up shop in your space for a much shorter period of time. Is your store at half capacity? Sharing the room with another business or service that compliments your own would benefit you both in business and shared overhead costs.

Supply Chain Issues
One of the most obvious challenges that small businesses face also has the biggest impact. Covid's impact on the supply chain combined with the congested backlog of cargo ships and supply chain transport is forcing SMEs to acknowledge their dependency on singular supply chains and the dwindling supply on their shelves. Until political figures and supply chain transports create long-term solutions, there are several short-term means SMEs can take to stretch out the few shipments they're receiving as much as possible.

Creating an expedited supply
If your business relies on foreign goods and/or manufacturing, experiment with domestic alternatives, if available. The closer the supply, the easier it will be for you to acquire.

If well-known and large manufacturers and corporations are your partners, set your sights lower on smaller companies and upstart with online businesses who might be able to supply you with what you need, or a different supply that is cheaper and more readily available. For instance, if you need a supply of wood, contact local thrift shops with some old furniture that can be taken apart and reused.

If food is your market, are there nearby, local farms where you can form a partnership with?

Downsize
As goods decrease, so too might the number of projects and orders that are taken on. Large companies will often perform "line simplification," where they decrease the number of products they offer. When the stores look emptier, find ways to shift the space and remove extra shelving to give the illusion of fullness that is more appealing to customers.

Establish alternate supply chains
In addition to alternate suppliers, attempt to establish connections with alternative supply chains that may be able to get supplies and lower risks to your business.

Biased Bank Preferences
When the stability of smaller businesses started becoming more uncertain, legacy bank policies started favoring larger enterprises more than before in order to make sure they received as large a return on their investment as they could. But this leaves small businesses, especially those who were actually becoming more successful before mandates impacted their operations, struggling to receive funding.
Even in 2018, only 37% of small businesses believed their banks appreciated and supported their business. One small business owner, Benjamin Rueck, said to local reporters in Colorado, "SBA loans and other types of funding from the banks were generally on a freeze due to the unsure nature of everything happening during the initial 2020 onset of the pandemic." So what are a couple of ways you can combat Bank bias?

Financial Technology
FinTech is proving to be a more convenient and reliable means of receiving funding than through traditional institutions. During the pandemic, the Swiss Finance Insitute saw an increase of FinTech app downloads to 32.8%. FinTech that you, as a business owner and manager, would find relevant are
Automated investment apps
Online lending businesses
Crowdfunding platforms
Buy Now, Pay Later (BNPL) online shopping
Peer-to-Peer Lending
When banks fail you, it's time to look for support from individuals. According to an issue brief conducted by economist Miriam Segal of the U.S. Small Business Administration, Peer-to-Peer lending (P2P) is a "viable financing alternative for small businesses," according to data collected in 2014 after the 2008 recession. P2P loans are online interactions that connect individual investors with businesses looking for funding. Segal calls it a "hybrid of crowdfunding… and marketplace lending." Just be aware that it may not be viable in all states according to individual state financial regulations.

Conclusion
Inflation will force you as a business owner to reevaluate your business strategies during and after the inflation or recession crises. The good news is that having gone through this inflation you will know what signs to look for to prepare you for any inflation troubles in the future and plan accordingly.

Once you've made it through the season of inflation and supply shortages, you will be in a better position to think of "what if?" scenarios, as well. These include asking yourself questions such as, "What if minimum wage rises 25-50%?" and coming up with a suitable solution.
Contact us now: info@SRpro.marketing.