Building Marketing Strategy for Start-Ups: Challenges and Methods
With all the time and work involved in setting up a new business, it's easy to overlook some of the key parts of getting the new venture established in the marketplace. How can one find time to think about establishing successful marketing strategies and what are the challenges one will face along the way?
Creating a fool-proof marketing plan doesn't need an enormous financial investment. With a little time, brainstorming and creativity it's possible to establish a solid marketing framework that will not only grow business but will also overcome common challenges and roadblocks.


Create a website
In today's digital age building a presence on the web is the key component to building any new business from the ground up. It will be the place that people will want to go to in order to learn about what you offer, to find out how you stand out from your competitors.

Hiring a web developer can be expensive however there are plenty of companies such as Wix and Squarespace who offer a range of free website templates that anyone can use to build themselves an attractive website that will draw new customers in with the minimum of fuss. There are easy to follow tutorials that provide step-by-step guides to creating a web presence that will speak for your new business.

Once a potential customer becomes aware of a product or service that you're offering, their first port of call will be your website. Ensure it is professional, explains clearly what products and services are being offered and how coming to you will be to their benefit. Talk about your background, what it was that inspired you to set up your new venture, what your aims for your business are, and how you are aiming to go about achieving them.

Understand your target audience and tailor your website content accordingly. Include clear descriptions of the products and services you offer, including pricing where possible so that potential customers know what they're going to get for their money.

Finally, choose a domain name that is simple for customers to remember. Purchasing a web domain is quick, easy, and very cheap and will be a key asset for driving people to your website and building awareness of your business.
Build a brand voice
Creating a brand voice will engage your target audience simply by speaking their language.

This brand voice should be consistent across all of your marketing content, whether on your website, through social media or other digital media or paper literature and advertising. Creating a guide to your brand voice will allow any marketing professional to quickly understand who it is they're speaking to and how they should do it.

For example, if you're looking to create a place in the leisure market to sell to 18-30 year-olds then make sure the tone of your content is more conversational and informal. Clearly, that approach would be useless if you're aiming to sell to middle-aged company executives who would engage best with a more professional formal style that would speak to their lifestyle and expectations.

Build confidence in your business

Perhaps most importantly you will need to create confidence in your brand and the best way of doing this is to let your customers speak for you. It's all very well boasting that your business can provide certain things, however, nothing you say will build customer confidence than the words of people you've already worked with.

Showcase case studies of projects that you've been a part of. Explain what you did, how you did it and crucially, how the customer benefitted. Include testimonials from customers that talk about how easy your company was to work with, the quality of the product or service that you provided with them and, most crucially, why they would work with you again or why others should choose your offering over those of your competitors.

The best publicity any business could possibly receive is word of mouth from satisfied customers. Beware though, bad news travels fast!

Overcoming the competition

No matter what industry the start-up is in and how innovative or ground-breaking the new business is, there will be other businesses vying for the custom of the same target clientele. The key is convincing these customers that they should be spending their money with you and not somewhere else.

It's very easy to be intimidated by what your competition offers and become disheartened. Whilst researching what other players in the marketplace offer is useful, it's important not to get bogged down in comparisons of what your competitors do offer that perhaps you don't.

Instead, focus on those areas that make your offer stand out in the marketplace. What is your business' unique selling point (USP)? What does your start-up offer that your competitors don't? Whilst you may not be able to beat the competition on price, perhaps you can make promises on service that your competitors don't. Or maybe your product has a feature or added benefit that makes it worth your customer's while to pay a little premium for, whether for peace of mind or a superior quality product.

Find a way to be different and focus heavily on that USP in all of your marketing literature.
Don't run before you can walk

A common challenge faced by start-ups is understanding the most effective way to take their product or service to market. The temptation is to flood potential customers with marketing using every imaginable medium. Email campaigns, newsletters, direct marketing campaigns, social media posts on Twitter, Facebook, Instagram & LinkedIn, and writing a blog.

Whilst each of these ideas are laudable and can help to grow your business, it's important to recognize, firstly, how much time you have to allocate to marketing, and secondly the best use of
that time. It is better in the early days of building your start-up to focus on one or two strategies well rather than spending time pursuing half a dozen disparate ideas poorly.

Rather than trying to do too much too soon, focus marketing resources in a structured and targeted manner. Set smart achievable targets and focus on one thing at a time. Begin by building up a following via social media posts to drive engagement and find potential customers before then putting more time into more targeted campaigns such as email cascades and newsletters.

It's vital that your marketing team understands your business' immediate needs and puts its energy towards achieving that goal. Identify the most pressing need your business currently faces. Once that question has been answered, you can begin to put a strategy in place over a set timescale to meet that requirement.

For example, as a start-up, you may need the initial marketing focus to be centered on building your customer base. Build awareness about the products and services your business can provide, focusing on what benefits you can provide people with a strong campaign on social media. How can you help make people's lives easier? Offering a succinct and compelling answer to that question is the quickest and easiest way of beginning to attract new customers.

Six months later you might be worrying about how to retain these customers and making sure they don't take their customs elsewhere. By this stage your social media messaging can almost look after itself with scheduled posts and your marketing team can begin to focus on email funnels, blog posts, and newsletters, informing them of offers, new products or services, enhancements to existing products, and services and persuading them to remain loyal to your business.

By focusing on one business problem at a time and using a coherent marketing strategy that targets each worry in turn rather than spreading your resources too thinly by trying to fix everything at once, you'll find business growth occurring much quicker than you might have imagined.


Less is more

The most memorable brands and businesses, for better or worse, tend to stick in the mind of a reason. Often, that reason is the company's tagline. They're short, snappy, and memorable. When creating a tagline for your new business, it's vital not to fall into the business buzzword bingo trap, where you choose words and phrases that sound impressive but ultimately mean very little.

Instead, keep in mind the mantra 'simplicity sells'. Customers will often be put off by jargon, complicated terminology, and empty platitudes. They want to know how your product or service can help them or their business without having to spend the time they don't have to delve deeply into research about your company.

Keep your end-user in mind when creating any taglines, whether for individual products and services or your overall business package. Think about the solution you're offering your customer and get that message across as clearly and concisely as possible. Think about your company's USP and how it would benefit the end-user. For example, Burger King's tagline of 'Have it Your Way' immediately tells the customer that they can tailor any burger to their individual tastes, something that sets them apart from some of their competition.

Creating an engaging tagline that informs the customer about what to expect is one of the most proven ways of converting traffic to your website into sales leads.


Include a call to action

Producing your new company's marketing strategy is hard work, yet there is one way to convert all of this hard work into sales leads that is ever so simple to do, yet all too often overlooked.

You've told your audience all about your market-beating offering, you've convinced them that your product or service is exactly what they're looking for, they know the benefits buying from you will bring them, yet still they may not click through and generate that all too important sales lead.

Make it clear that you want to hear from them by adding a call to action on every single piece of marketing literature, whether digital or paper. Ending with a comment like 'Don't delay, get in touch today!' or 'Want to know more? Get in touch with our friendly sales team today!' can make the difference between a lost sale and a lead generated.

Also make sure you make it easy for your customers to get in touch with you, add a contact button on email copy, make sure there is a phone number on paper literature or an email address that goes to an inbox that is regularly checked. Make it obvious what their next steps should be and how they can make that step with the fewest number of clicks and least amount of effort on their part.
Invest in a CRM tool and make use of email funnels

One of the things you will be doing when you begin your new business is creating a bank of contacts to reach out to every time you have a new product or service coming to market, or to inform customers of special offers that they might find attractive. This list will grow as new leads are generated, as more and more people show interest in your offering and maybe sign up to a mailing list.

It is well worth investing in a good quality CRM tool that will automatically do much of the required maintenance and from which you're able to send out email funnels informing customers, whether potential, existing, or even lapsed, why they should do business with you.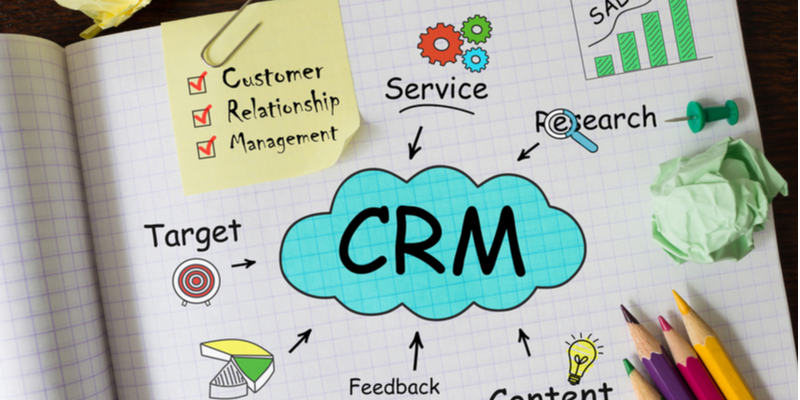 Email funnels are an excellent low-cost, low-effort way of building awareness of your services and products giving you the opportunity to build brand loyalty by creating special offers that only those that are signed up to your mailing list can take advantage of, producing introductory offers to entice new customers, informing your audience of new products and services, and also providing you with an excellent opportunity to upsell by building on previous sales by offering additional extras.

Successful email funnels require some persistence but also the need to treat your contacts with respect and not flood them with so much marketing literature that they want to unsubscribe. Three emails per funnel over a four-week period is a sensible approach. Firstly to introduce the offer, product, or reason for mailing, then a little reminder email a fortnight later followed by a 'last chance to take advantage!' mail about four weeks after the initial email has hit your audience's inbox.

Remember to include your call to action and to make it easy for your customers – new, existing or old – to get in touch with you.


Don't rely on digital alone

Whilst the online and digital world certainly plays a key role in marketing these days, the personal touch still has its place in being able to build an efficient and successful marketing strategy.

Most towns and cities will have a chamber of commerce, forums that are excellent opportunities to network and get your face and name recognized amongst your peers and within the local business community. Likewise, trade shows that might be taking place in your chosen industry are another great opportunity to build networks and showcase your company's wares. Talking to people inside and outside the industry will uncover unexpected sales opportunities that you'll be able to exploit to your advantage whilst also being able to build personal relationships that could result in future opportunities and word-of-mouth recommendations.

Again, make sure it's easy for contacts for get in touch with you by keeping a ready supply of business cards with you that include your name, company name, company tagline, contact numbers, website address and social media handles. When you're given business cards by others, reach out to them a few weeks or months later via a phone call or email to keep your business fresh in their minds.

If you have a little bit of a budget that you're able to utilize, create a postcard or flyer that is both eye-catching and informational and deliver them in your local area or post them on local community boards in shops, libraries and cafes to reach a new audience. These are a fun way to introduce your company to your wider community.

Create a great customer experience

The final and perhaps most successful marketing strategy any company, new or old, can employ is to offer customers a great experience. At the very least you should be looking to meet your customer's expectations but by exceeding them and going above and beyond on a routine basis, you will quickly find that good news travels fast and that you will pick up new customers simply through word of mouth and referrals.

Customers like nothing more than feeling as though you value them and their business. Taking care of them and offering them a positive experience will provide people with a good news story that they will be sharing with their friends, families and colleagues.

Not only that but being aware that no business can expect to operate without encountering the odd roadblock. Meeting those challenges head-on, listening to customers' feedback and offering swift solutions will not only cement your existing clientele's loyalty, but when they hear tales of your competitors coming up short they will not hesitate to recommend you giving you another new customer to look after
Contact us now: info@SRpro.marketing.