Paid Marketing - A Guide on How to Make the Best from Your Budget
As a business owner, you know that there are some inflexible budget restrictions to adhere to when it comes to marketing. Paid marketing through digital advertising can be the solution to your marketing woes to gain more potential leads sooner rather than later. You just have to know how to make the best from your budget.
If you've tried organic marketing and are frustrated with the slow to zero results, you might consider altering your budget to fit some valuable paid marketing strategies into the marketing department. Continue reading below to find out how you can make paid marketing options work for your business without burning a hole in the budget.


What is Paid Marketing?
Digital advertising, or paid marketing, describes the act of implementing strategies to target potential leads and customers for product and brand awareness. There are numerous paid marketing channels to utilize but to get the best value from your budget it pays to know a thing or two about effective paid marketing.

Paid marketing allows a business to purchase advertising that will target specific audiences through adverts on the social media platforms they are using.

For example, if you utilize digital advertising on Instagram, people that have "liked" or searched similar hashtags, products, and services to what you're selling, the paid advertisements are targeted towards those social media users.
According to Small Biz Genius, through the use of paid marketing, businesses can increase their brand awareness by up to 80%. Paid marketing offers faster results by reaching targeted potential customers rather than reaching people who aren't interested in your offering.
Google research shows that approximately 67% of business-to-business (B2B) purchases are motivated by digital marketing content.

Paid marketing provides your business with a solution to maximizing your business reach, boosting website traffic, and converting prospective leads through both digital and traditional promoting.

Where paid marketing once majorly referred to billboards, bus stop posters, public toilets and shopping mall doors, flyers, and letterbox drops, paid marketing in the 21st century mostly refers to digital marketing through social media sites, emailing, website adverts, and other digital means.
According to Statista, roughly 460 billion American dollars will be spent on digital advertising by 2024.
What is Organic Marketing?
Organic marketing refers to the number of people who see your content through unpaid services. E.g., a potential client might find your Instagram account just by searching a similar hashtag used rather than having seen a paid advertisement on their feed.

Organic marketing generates traffic, followers, conversions, and leads gradually and over a longer period. Organic marketing is natural and as such might acquire better and authentic relationships with clients and customers.

Organic marketing can result in attracting clients that trust your business over others because you haven't used paid services to attract or lure them into your services.

What Are Paid Marketing Channels?
Paid marketing channels offer businesses numerous opportunities to advertise their products and services across multiple platforms to gain potential traction in different areas of social media and digital networks.

Paid marketing can include digital and physical aspects of marketing but in the 21st century, digital marketing has become a more cost-effective means than traditional marketing and can reach and connect with billions of people globally through the world wide web.

Here are some of the commonly used paid marketing platforms in 2022:

Instagram ads
Influencer marketing
Affiliate marketing
Pinterest ads and stories
Facebook ads
Twitter ads
LinkedIn ads
Paid Google ad
Email campaigns
Display marketing
Pay per click (PPC) alternatives
Search Engine Optimization (SEO)
Using paid adverts through these popular platforms and approaches can drastically increase your brand reach and awareness and it doesn't even have to cost a fortune.

While search engine optimization (SEO) should be a priority in your marketing tactics, it doesn't have to be the number one strategy when you have numerous paid digital advertising strategies at your fingertips.
Influencer marketing has grown from US$1.7 billion in 2016 to US$13.8 billion in 2021 and is expected to reach almost US$17 billion by the end of 2022.

How Paid Marketing Can Help Your Business
The ultimate goal of paid marketing is to gain and convert new leads and customers to your business products and services. In other words, paid marketing is designed to increase your return on investment (ROI).

The best way that paid marketing services does this is by driving website traffic as a result of enhancing your business reach.

Here is what paid marketing can do for you:
Build brand awareness
Increase target audience reach
Boost website traffic
Generate and convert leads
Did you know that 87% of shoppers will start their initial search for products online before heading to a store? That's 87% more people that you could potentially target your services towards if you set up your paid advertisement effectively.

Not sure how to achieve this?

We've got you covered below with some of the best YouTube tutorials around on how to set up your ad campaigns for positive results.

How Do You Use Paid Marketing?

The general instructions for using paid marketing will be the same across all platforms but they will differ slightly when you set them up.

For example, to use Instagram ads you must have a Facebook business account and there are multiple steps to go through to get the adverts up and running. If you've never used Instagram and Facebook ads before, you might find yourself feeling like you've fallen down the rabbit hole.

It can be stressful but there are plenty of tutorials on YouTube that you can watch for assistance in learning how to set up paid advertising campaigns.

Here are some beginner "how-to" guides we have compiled for you to delve deeper into the world of paid digital advertising and marketing:

Paid marketing works by displaying ads on search engine pages and social media platforms of those who have an interest in what you're selling. If you don't set up your customized digital marketing ads the right way, it won't work.

The typical setup is designed to create an effective ad campaign that gains your business effective results through marketing adverts to the right audience.

You choose the channel, you select the target customer baseline or criteria including demographics and interests, you choose the SEO search words and keywords, and most importantly, you are in control of how much money is spent during the process.

For Instagram and Facebook ads for example, once you've put in all the required criteria, you select a maximum amount for the budget and the platform will run your ad campaign until the budget is up.

These popular platforms also notify you of the best statistical outcomes for each option allowed. I.e. if it's more or less effective to spend the maximum amount in one day, one week, across multiple months etc. including the likely, or possible, outcome of each available advertising option.
As stated by Influencer Marketing Hub, Video ads are driving more engagement than images on platforms like Facebook because they are triggering more clicks and conversions by encouraging people to pay more attention to the content being watched rather than flicking through aimlessly.

What Are the Benefits of Paid Advertising?
If we compare the benefits of paid advertising and marketing vs the benefits of organic marketing, the most beneficial aspect of paid marketing is that your business will reach a wider audience quicker than organic marketing.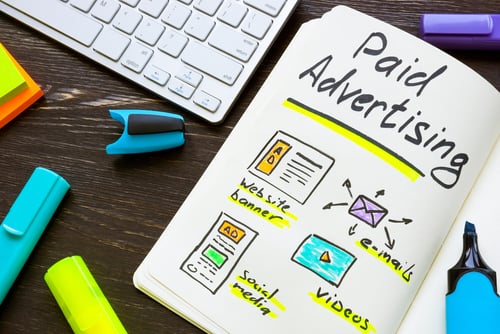 Both paid and organic marketing have their advantages but where paid marketing can be more expensive, it is usually better suited to larger companies and corporations. That is until you read our tips on how to budget your paid marketing strategies better further below.

Here is a table that outlines the main differences between paid and organic marketing:
| | | |
| --- | --- | --- |
| | Paid Marketing | Organic Marketing |
| Time efficiency | Used as a quick method to reach a wider audience | Generates traffic over time if done well |
| | Automatic campaigns are set to your targets. Once set up the campaigns run themselves and you just focus on the results through key performance indicators (KPIs | A lot of research, time, and effort goes into focusing on a smaller number of possible clients. Organic marketing can be time consuming |
| Measurables | Paid marketing can be measured | Organic marketing is harder to measure |
| Expenses | Can be expensive, average prices are listed below. | Financial freedom through free services. |
| Used by | Larger corporations with greater marketing budgets and startups trying to get their feet off the ground | Startups and smaller businesses with lower marketing budgets will find organic reach prices more appealing. Startups, however, might need a larger budget to promote brand awareness at the beginning of their journey. |
| Reach | Approximately 28.1% of users will see paid-for adverts and content | 5.20% which equivalates to approximately one in every 19 fans or followers that see unpaid content. |
If you're looking to broaden your reach and to broaden it quickly, you'll want to consider utilizing paid marketing strategies over organic. Whereas if you want to generate authenticity and trust between yourself and your customers and that aspect is more important than generating sales, you can stick with a cheaper organic reach strategy.
How Much Do Companies Spend on Paid Marketing?
When it comes to affording digital and paid marketing, as a small business you might consider it too expensive. But if you learned that you could potentially make US$2.00 in revenue for every US$1.00 spent on paid advertising, would you consider it worth the cost?

It is completely up to you as a business how much you spend on your marketing department but the average amount annually that companies spend on digital and paid marketing amounts to roughly 7-8% of their annual marketing revenue. The average for smaller companies is approximately 3-5% of their gross revenue on marketing.

Here are some of the average costs spent on paid marketing:
Social media marketing US$250 – US$10,000 monthly
Between LinkedIn, Instagram, Facebook, Twitter, and numerous other platforms, you could expect to pay up to US$10,000 a month for your social media advertising for larger businesses. US$250 is better suited to smaller businesses and again is just an average. If that doesn't fit your budget, you can alter advertising campaign allowances at any time.

Email marketing up to US$5,000 monthly
Emailing marketing is another form of paid marketing and is used to promote special offers, product launches, advertise brand and product information, and market company events.

Larger businesses can expect to pay up to US$5,000 a month for email campaigns while smaller businesses might only spend US$300 a month depending on budgets, target audience, and expected reach outcome.

SEO marketing US$500 – US$20,000 monthly
You can hire SEO professionals to enhance your search engine optimization which increases website traffic and revenue by using the right words. SEO targets internet users that are more likely to find value in your services and products.
How to Make the Most of Your Budget in Paid Marketing
Deciding where and when to put your marketing efforts into practice is a good place to start with your paid marketing budget. Consider all the costs involved in marketing and consider your business goals and timeframes. You want to spend most of your budget where you're going to see the most return on your investment. There are over 4.66 billion people in the world that have access to the internet, it's up to you and your marketing skills to try and reach as many of these users as you can.

Here are a few tips to consider when budgeting and planning for paid advertising and marketing approach:

What's your overall marketing budget?
First, you need a marketing budget. Most small businesses allow 3-5% of their gross revenue for paid marketing services and large businesses typically allow up to 8% of their gross revenue. While this is just an average, paid marketing costs are in your control.

As with anything, the more you spend, the more likely you are to see results.

As a guide, a small business with less than 20 employees shouldn't expect to spend more than US$30,000 on its overall annual marketing approach. Large businesses with more than 50 employees can expect to spend up to US$100,000 on their overall annual marketing plan.

Once you've worked out how much you're willing to spend on paid marketing it'll be easier to research, divide, and allocate your expenses across multiple platforms.

Research
Research and discover multiple platforms where you can advertise your services. Google Ads, Facebook, Instagram, and LinkedIn are just some of the spaces you can advertise digitally through paid marketing services.

Find some other website platforms that might suit your company for marketing purposes.

Divide
Once you've found an array of platforms for advertising it's time to divide them into sections.

Dividing all the platforms into sections will help you to break down and eliminate any platforms that aren't necessary for advertising. Select the channels based on your overall target audience and what they're most likely to respond to. For example, where 90% of consumers say Google Ads influence their purchasing decisions and 75% say Google Ads make it easier to find services and products, only 72% of Instagram users report

purchasing services and products after seeing them advertised on Instagram ads. While both are positive results, you might find it more beneficial to advertise and focus on Google ads rather than Instagram.

Use high-quality content
In this day and age, people are generally only attracted to high-quality content that relates to them and their personal interests. You can engage with your potential and current customers on a higher level with content that they enjoy and find valuable.

Think of images, videos, and education that can create a positive experience for your brand image and encourage a boost in potential leads and customers.

Start small to evaluate results
If you're just starting to use paid marketing for the first time it's a good idea to start with a small budget across multiple platforms to see where you get the best results.

Once you've analyzed the KPIs you can then focus your attention on the platforms that saw success and either phase the other platforms out or keep a smaller budget for them.

Retarget
Paid marketing allows you to retarget those who spent a fair amount of time on your site but left without making a purchase. You can select retargeting options when utilizing paid marketing services to send those possible customers personalized ads based on the product(s) they viewed.

Analyze and analyze often
Don't expect to pay for these paid marketing services and have them automatically work and show positive results without you having to put in a little effort. Analyzing the results regularly can be the difference between these paid ads and strategies working well for your business or what turns out to be a waste of time and money.

If something worked well last month, it might not necessarily work well next month. Keep on track with trends, competitors, and new developments in your field to ensure you're optimizing all your paid marketing opportunities wisely.
Conclusion
Using paid marketing as a strategy to achieve business goals is an inexpensive and important component of brand marketing and recognition. Paid advertisements can enhance product and service awareness greatly and ensure higher online traffic through the business's platforms.

Instead of waiting for new leads and potential customers to come to you through organic advertising, allow a budget for paid marketing and you might find that your business growth increases your sales and customer conversions by up to 50%.
Contact us now: info@SRpro.marketing.