Widespread Marketing Performance Dashboard Reports Your Company Needs
For companies to run effectively, there must be efficient means of communication between the various departments that make up the marketing and advertising teams.
Dashboards achieve this efficiency by depicting the essential Key Performance Indicators appropriate for each department in visually simple illustrations that allow the reader to process the information in a short amount of time, but there also needs to be a means for more detail, which comes in the dashboard reports.

Dashboard reports will compile specific Key Performance Indicators (KPIs) in more detail than what is summarized on dashboards. The type of report that is needed will determine which KPIs will be compiled and outlined in the reports. Reports will vary based on whether they come from analytical, operational, strategic, or tactical dashboards, which is determined by who in the corporation will need to read the report.

Read below if you would like to understand the types of reports various departments need and the KPIs that each report uses.


The Difference Between Dashboards and Reports
It's important to note that while both dashboards and reports provide detailed information about Key Performance Indicators (KPIs) that can impact decisions on marketing strategies, they do not possess the same amount of information, or provide information from the same points in time.

Dashboards will usually be interactive hubs that layout several sets of data in visualized charts and graphs that are actively updating in real-time. Reports will provide a single, static set of data, often with graphs and charts, that is not actively updated, but measured at certain intervals such as daily, weekly, or monthly.
Types of Marketing Dashboard Reports
There are four different types of marketing dashboards, which influences the kinds of reports your marketing will be receiving

Analytical
Operational
Strategic
Tactical
Analytical Dashboard Reports
Analytical dashboards lie somewhere between the operational and strategic, but more than any of the other dashboard types, utilize as much historical data usage as possible.

Analysts require data to be mapped out in great detail to identify the latest trends, create predictions by comparing those trends with a multitude of variables, and create targets and hard-data goals for the business intelligence department of the company.

Many times, the data that analysts require is expansive and covers a multitude of categories, and need to be condensed into smaller and more visual formats where that would be effective, or else have other ways of filtering through the vast array of data points so that it's easier and faster to explore the data.

These filters and comparisons are what allow analysts to find their insights, so analytical dashboards usually,

Have as many filters and factors to select and compare against as the analyst needs
Use grids as the focal point and primary means of organizing the data
Include drill-downs, which take one set of data and expand it to see the deeper levels of it
And include features that help the analyst make predictions, such as predictive models and "what-if" parameters that they can select to see what would happen to the data.
Analytical reports that belong to analytical dashboards are based on the historical data mentioned already, along with company statistics. They need to be dynamic, accessible, and clearly tell the story you need to tell about the company or certain aspects of the company, with data.

We will describe how to create a dashboard report in a later section, but for analytical reports, the KPIs that these reports require will depend on what trends the analyst needs to uncover or compare against the standard. They will also depend on what business questions/problems the report needs to answer, and business goals the analytics need to create a path for.


Operational Dashboard Reports
Operational dashboards are used to monitor the internal processes from operation to operation within a company's major processes in shorter time frames. Because the dashboards update each report's information in real-time, the individuals who need to see the reports, such as the process participants and operational managers, will be able to see in which operation arising problems are coming from so that they can respond as quickly as possible.

This is because there aren't so many points of data, as in analytics, that a user can't look at the big picture of data and immediately find the information they need.

Once a problem is identified, the data is selected and moves on to be more deeply analyzed and have direct action taken, making operational dashboards and dashboard reports to be more detailed than strategic dashboards.

An example of an operational dashboard report might be to compare separate processes based on their duration and expected time of completion. The report might include a pie chart that has a section for programs that are in the middle of their expected duration, a section for programs approaching their expected duration, and a section for programs that are due. This will let the operations manager know which programs are experiencing problems.

Strategic Dashboard Reports
Strategic dashboards and dashboard reports are focused on long-term strategies, unlike operation dashboard reports, and are concerned with high-level metrics. These are critical metrics and factors to the success of the business that are seen by the top-level executive managers in the company, and as a result, make the dashboard reports complex to make.

Of all the dashboards, strategic reports impact the company most. These critical KPIs will be tracked periodically and analyzed from every imaginable angle in order to gain company-wide insights and predictions on which metrics will be on target next. When the executives have discovered useful trends, they will be sent to the rest of the organization.

When a strategic dashboard report is made well, it takes no time at all for a group of high-level company officials to see strategic issues and develop a new course of action.

An example of a strategic dashboard report might be for marketing management focusing on the current success of various campaigns. Because it would waste time for a CMO to go through the metrics of individual campaigns, a strategy report would include the essential KPIs of the campaigns in question in a visual and easy-to-understand format that brings all the necessary metrics together.


Tactical Dashboard Reports


Tactical dashboard reports are used to track operation performances by mid-management teams. These dashboard reports are some of the most detailed, and yet the most suitable to share with stakeholders because they are more interactive. They also work well with strategic dashboards because tactical reports will monitor strategic initiatives.

On the surface, tactical dashboards will show the sets of data in their most visual, but basic forms. When the user activates a tactical report on the dashboard, the report will guide that user through the decision process that the company made by expanding the report and allowing the user to explore the data set. It also allows the use of a variety of filters and segmentation to make it even easier for the user to explore the data.

An example of a tactical report would be one that tracks the gross profit margin in finance.

Marketing Dashboard Reports Based on Function
Every company, large and small must use dashboards and reports to maintain organization, effective communication, and a clear vision of the current progress and effectiveness of their strategies. However, there is no one dashboard with a set of reports that is effective for every department in the company.

All of the previously mentioned types of reports mentioned above can be found in every department but It can be helpful to understand how each type of report is used in these departments and what KPIs are needed.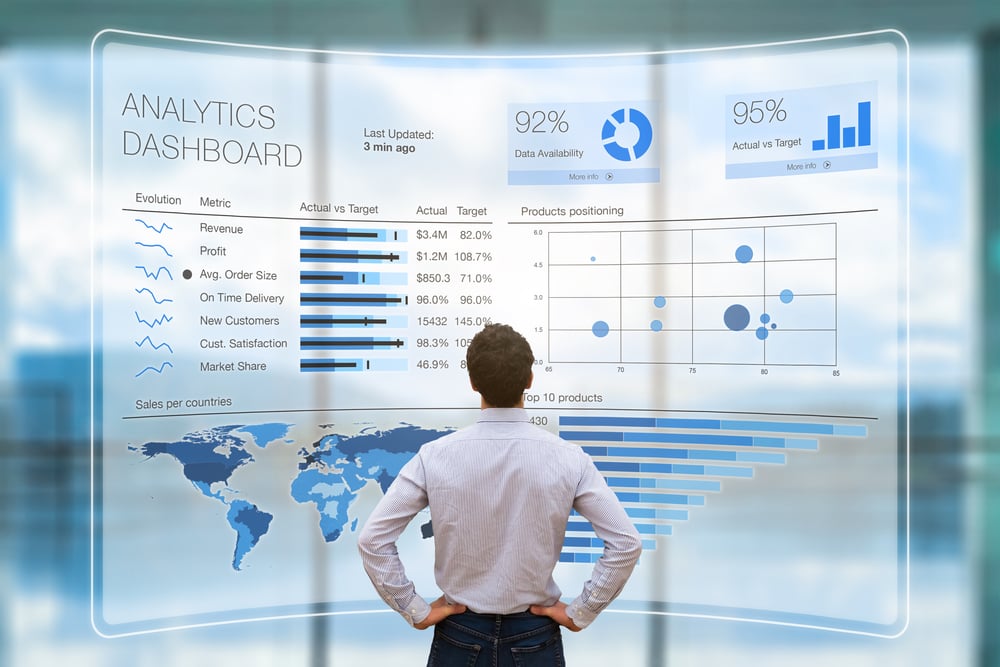 Customer Service
Improving customer service (CS) and experiences are critical to every business, especially online. In this department, what are the KPIs and metrics that allow this department to catch mistakes and increase CS offerings?

In CS reports, the important KPIs are:

Average Response Time
Customer Churn
Customer Effort Score
Customer Retention
Customer Satisfaction
First Call Resolution
MRR Growth Rate
Net Promoter Score
Net Retention Rate
Number of Issues
Revenue Churn
Service Level
Support Costs vs Revenue
Top Support Agent
These KPIs would be used for different reports. In CS, common reports include the following with their appropriate KPIs
Customer Satisfaction Reports
Net promoter score
Customer effort score
And customer retention
CS Team Reports
Average response time
First call resolution
Top support agents
And the number of issues
CS KPI Reports
Service levels
Customer support vs revenue
And customer satisfaction
Customer Retention Reports
Customer churn
Net retention rate
Revenue churn
And MRR growth rate


Finance
It's impossible to fund various campaigns if the managers are unaware of the state of the budget and how much money is really available. Finance reports will also show where too much money is being given and where insufficient amounts of money are causing problems.

In finance reports, the important KPIs are:
Accounts Payable Turnover
Accounts Receivable Turnover
Berry Ratio
Budget Variance
Cash Conversion Cycle
Current Ratio
Debt to Equity Ratio
Economic Value Added
Employee Satisfaction
Expense Management
Finance Error Report
Gross Profit Margin
Income
Internal Audit Cycle Time
Inventory Turnover
Net Profit Margin
Operating Cash Flow Margin
Operating Profit Margin
Operating Expense Ratio
Payroll Headcount Ratio
Quick Ratio/Acid Test
Return on Assets
Return on Equity
Vendor Payment Error Rate
Working Capital


These KPIs would be used for such reports as:



Cash Flow Statement



Operating Cash Flow
Working Capital
Budget Variance
Accounts Receivable Turnover
Accounts Payable Turnover
Current Ratio
Return on Equity
Operating Cash Flow Margin
Profit and Loss
Income
Accounts Receivable Turnover
Accounts Payable Turnover
Return on Asset
Return on Equity
Budget Projections
Working Capital
Budget variance
Operating Cash Flow
Current Ratio
Net Profit Margin
Gross Profit Margin
Inventory Turnover


Human Resources

In order for HR to continuously maintain and improve management processes for employees, HR needs reports on the metrics and KPIs that reveal insights to the strengths and weaknesses of recruiting processes, training costs, turnover rates, engagement, etc. Basically, data that is connected with human resources. The majority of the reports produced for and in HR will be related to HR costs.

In HR reports, the important KPIs are:

Absenteeism Rate
Accounted Lost Time
Average Time Stay
Cost per Hire
Dismissal Rate
Employee Benefits
Employee Experience
Employee Personal Information
Employee Productivity
Employee Turnover Rate
Female to Male Ratio
Human Capital ROI
Overtime Hours
Part-time Employees
Payroll Processing Time
Profit Per Employee
Talent Rating
Talent Satisfaction
Talent Turnover Rate
Time to Fill
Training cost
Recruiting Conversion Rate
Recruiting Conversion Rate
General Performance Monitoring Report
Employee productivity
Time to Fill
Talent Rating
Talent Satisfaction
Absenteeism Rate
Human Capital ROI
Payroll Processing Time
Accounted Lost Time
Personal Information management
Talent Turnover Rate
Employee Experience
Age
Department
Position
Cost Display and Payment Check
Cost per Hire
Overtime Hours
Base/Actual Salaries
Employee Benefits


Information Technology
In the information technology department, reports are essential in making sure cost and ticket management and problem-solving stay on budget and are done on time, and provide insights within employee efficiency and effectiveness of issue responses to problems like downtime.

In IT reports, the important KPIs are
Average Handle Time
Accuracy of Estimates
IT Costs Break Down
IT Costs vs. Revenue
IT ROI
IT Support Employees per End Users
Mean Time to Repair
New Developed Features
Number of Critical Bugs
Project budgets
Projects Delivered on Budget
Reopened Tickets
Server Downtime
Team Attrition Rate
Total Ticket vs. Open Tickets
Unsolved Tickets per Employee
These and other KPIs are necessary to accurately create common IT reports as,



Risk Management Strategies



Project budget
Number of Critical Bugs
Average Handle Time
Accuracy of Estimates
Weekly Status Report
Server downtime
Total Ticket vs. Open Tickets
Unsolved Tickets per Employee
Accuracy of Estimates
Mean Time to Repair
Management
Management reports are some of the most critical because they are what allow managers to ascertain an overview of the progress and success of each department and their internal operations. It's important to note that management reports are not the same thing as financial reports, though the KPIs are similar. Management reports have a different purpose: making the decision-making process for upper management quicker and easier. They are also not required for legal purposes as financial reports are.

In management, the important KPIs are:
Customer Acquisition Cost
Customer Lifetime Value (CLV)
Net Profit Margin
Operating Profit Margin Percentage
P/E Ratio
Return on Asset
Return on Equity
Sales Target
All of these KPIs are used for
Strategy analysis reports
Project status reports
Operational reports
Internal and external reports are sent either to the company management or outside company stakeholders.
Sales
Sales teams rely on specific KPIs to help them determine if their current sales practices and activities are relevant of if something they are doing, or not doing, is creating "blockages" in the sales pipeline and extending the sales cycle length unnecessarily.

In sales, the important KPIs are:
Average Purchase Value
Average Revenue Per Unit
Average Sales Cycle Length
Customer Aquisition Cost
Customer Churn Rate
Customer Lifetime Value
Incremental Sales by Campaign
Lead Conversion Ratio
Lead-to-Opportuniy Ratio
Number of Sales Opportunities
Opportunity-to-Win Ratio
Profit Margin Per Sales Rep
Revenue Per Sales Rep
Sales Growth
Sales Opportunity Score
Sales Target
Upsell and Cross-Sell Rates
Common sales reports that would use these KPIs include the following.
Promotional reports
Customer Aquisition Costs
Sales Growth
Average Revenue Per Unit
Number of Sales Opportunities
Customer Lifetime Value
Customer Churn Rate
Closed and won opportunity sales reports
Sales Growth
Revenue Per Sales Rep
Profit Margin Per Sales Rep
Social Media
In the modern age, it's more essential than ever to ensure that social media campaigns are performing and having the intended impact on audiences as they should be. There are a multitude of KPIs that are needed when compiling reports of their success or failure, however, in social media, the important KPIs are:
Click-Through Rate
Comments
Conversion Rate
Cost per lead
Customer Lifetime Value
Impressions
Issues Resolved
Likes
Mentions
Non-Revenue Conversions
Potential Reach
Profile Visits
Reach
Sales Revenue
Share of Voice
Web Traffic
Engagement
Impressions
Likes
Mentions
Profile visits
Sales Revenue
Share of Voice
Web Traffic
Community Development
Non-revenue conversions
Share of Voice
Web Traffic
Branding Promotion
Click-Through Rate
Conversion Rate
Web Traffic
Reach
Conclusion
Whichever dashboard your company uses, the goal is to get the right information to the right team at the right time. Understanding that will help determine which dashboard reporting your company should be using.
Remember that when constructing a report to focus on the primary business goals, that way you are able to more easily determine which KPIs and key metrics you need to include. Choosing the right ones will let the reader easily spot the strengths and weaknesses of a strategy. If your report isn't telling a coherent story with its metrics, you know you've chosen the wrong metrics or KPIs.
Contact us now: info@SRpro.marketing.